Happiness is a Full Mailbox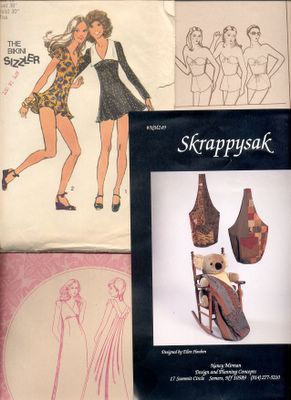 A great big thank you to Rose (I'd link her blog, but she hasn't started one yet) for these cool patterns she sent to me as a thank you for letting her borrow one of my apron patterns to copy. I love that bag! And TWO Polynesian patterns (my favorite), and boy did that sizzler pattern bring back memories. I used to wear those all the time--even to church! What was I thinking?!
Skrappysak pattern, 1996, by Nancy Mirman of Design and Planning Concepts
Pauloa wrap shorts and Pacifica long dress with the beautiful draped back, no dates found.
Simplicity sizzler from 1972. For those of you who don't know what sizzlers were, they were mini skirts with matching panties. Hugely popular at that time.